Four Benefits of VITAVATE™ FOCUS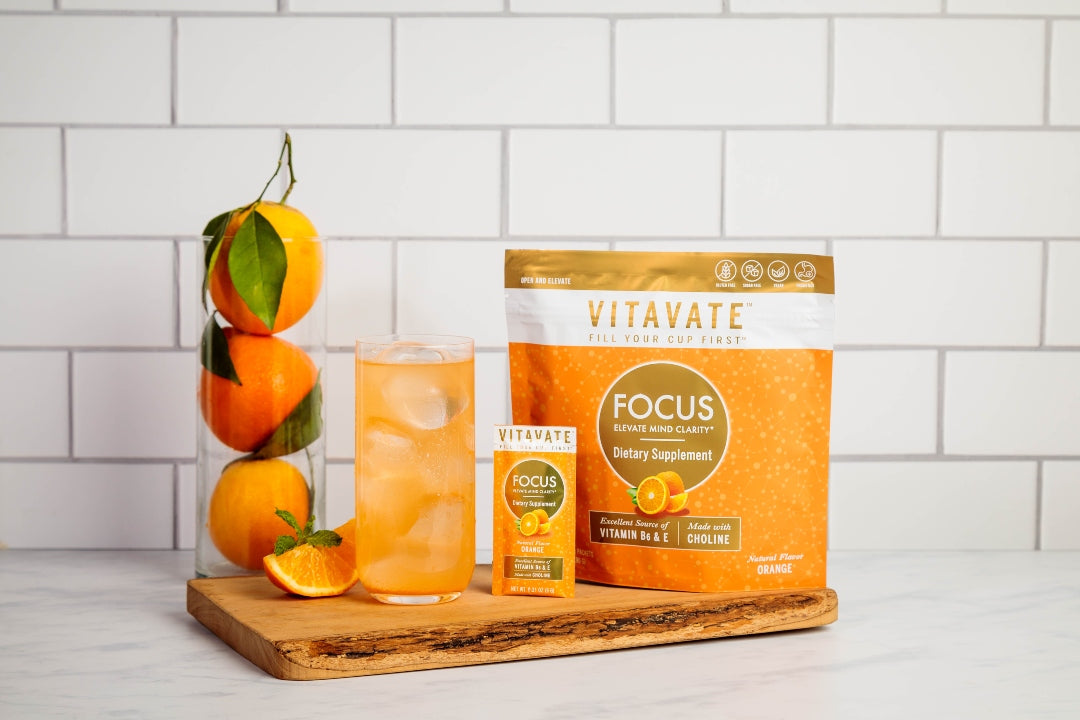 At VITAVATE™, we've created our supplements with your health journey in mind, because we take your health seriously! Supporting the body's essential functions with beneficial vitamins & ingredients ensures that you'll be able to perform at your best every day. VITAVATE™ hopes we can help you achieve your health and wellness goals with our leading supplement for improving cognitive function, VITAVATE™ FOCUS. Learn more about our vitamins to help focus, and shop with VIVATE™ today!
Support for Cognitive Function with Natural Flavoring
Including the best supplements in your routine is easier than ever with the delicious, natural orange flavor of VITAVATE™ FOCUS! We know that the key to a successful and long-term wellness journey is finding products that work with your lifestyle. That's why it was important for us to find something that not only helps you feel good, but a supplement that tastes good too!
VITAVATE™ FOCUS is Made with Natural Ingredients
We pride ourselves on using the best natural ingredients in all of our products. Designed to increase overall cognitive function so that you're present for all of life's important moments, VITAVATE™ FOCUS is gluten-free, sugar-free, and vegan. Supporting your health with natural ingredients is important, and VITAVATE uses only the most high-quality and beneficial ingredients in our supplements.
Ingredients to Boost Focus
The premium ingredients in VITAVATE™ FOCUS target the areas of your mind that boost mental clarity! Vitamin B6 is known to improve your attention, while vitamin A aims to strengthen your memory, and vitamin E boosts your overall cognitive functions. And that's not even all of the ingredients! We wanted VITAVATE™ FOCUS to truly help you feel clear-minded, so we added choline to help with mental focus. Fiber, which is an all-around great ingredient to support your overall brain and physical health, is also a prebiotic we've added to support gut health!
Break Through Your Brain Fog with VITAVATE™ FOCUS
It's time to take your cognitive function back into your own hands and stop letting brain fog slow down your days and productivity. As part of our Fill Your Cup First™ movement, encourage you to prioritize your self-care and optimal wellness. Kick brain fog to the curb with VITAVATE™ FOCUS and show up focused and energized to give your all towards your wellness journey. 
 At VITAVATE™, we want you to have the tools you need for your self-care journey to thrive. VITAVATE™ FOCUS will help you have the focus you need to meet all of your goals. Order yours today!